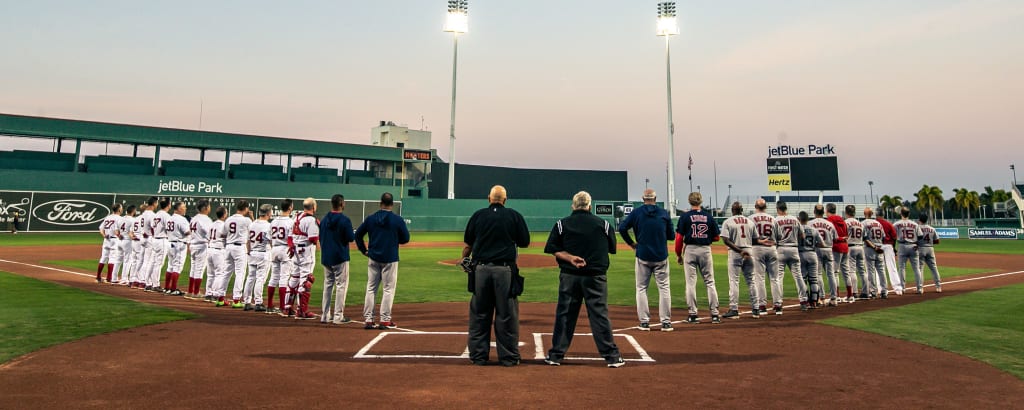 32 years ago, back in the winter of 1989, I experienced one of the most memorable weeks of my life. I attended Red Sox Fantasy Camp where campers like me, all greater than 30 years old and most a LOT older than that, were treated to an incredible baseball experience. The way we were treated, what we experienced, the uniforms we wore, the schedules we kept, the baseball games we played, the coaching, the practicing, the work, the game against the former Red Sox players, and the off hours camaraderie were all supposed to mirror the life of a professional ballplayer. The fact that we were not professional baseball players, and some weren't baseball players at all, made it even more enjoyable. Relationships were forged, unforgettable memories were made, and the week was a source for endless, hilarious stories! And this was fifteen years before I wrote the best-selling book Baseline Selling!
My regular readers are probably thinking, "Huh - a baseball post about Dave instead of Dave's son!"
I brought up the Fantasy Camp experience because it's not all that different from what participants experience when they attend my Sales Leadership Intensive (SLI). For example, last week I led a private SLI for a company with around a dozen sales leaders. In their follow-up comments they used words like, "enjoyable," "challenging," "informative," "great sessions," "looking forward to more," "enjoyed tremendously," "lot to absorb," "great content," "good investment," "great examples," "great techniques to adopt," and "very valuable." Those comments were extracted from their very first sentences and they all had trouble limiting their takeaways to just the ten I requested.
The enthusiasm for the training was not unusual because I used my own Fantasy Camp experience as the model for content creation. I wondered, "Why can't sales and sales leadership training be just as enjoyable, stimulating, challenging and memorable as my camp experience was?"
The comments I shared were their post-training comments. The challenge isn't whether or not they'll enjoy and benefit greatly from the training. The challenge is getting sales leaders to attend the training! There's a little matter of ego. Most successful sales leaders have fairly large egos and while their egos helped spur them on to their current roles, now that they're in their current roles, their egos sometimes obstruct their ability to improve, ask for help, and bring professional training into their companies. The voice in their head whispers thoughts like:
"They hired me to do this"
"I should be able to do this myself"
"I'll look weak if I bring in help"
Many sales leaders also possess a false sense of knowledge. They mistakenly believe they are already doing everything correctly, know everything there is to know about how to optimize their sales process, get salespeople to change, motivate and coach up their salespeople, hold their salespeople accountable, and grow revenue.
Sales leaders don't always have the proper sense for how much effective training should cost, often worrying that it might be too expensive while often discounting the benefits. Those who attend our Sales Leadership Intensives report an average increase in sales of 28% after applying the strategies and tactics they learn.
As one attendee from last week wrote, "TOP 10 (11) TAKE-AWAYS (other than coaching, then more coaching, then coaching again…):"
I can't promise that you'll enjoy a Fantasy Camp experience as much as I did 32 years ago, but I can promise that if you can overcome your skepticism, ego and fear, you'll love my Sales Leadership Intensive. I offer one public SLI each year and the next one is a three-day virtual coaching extravaganza on May 19-21. You can learn more here and register here.